Although Germany's neighbour, Poland, despite its dynamic development, is still unknown territory for most German-speaking investors. The Polish gross domestic product per capita has more than increased sevenfold since the fall of the Iron Curtain and average wages have more than doubled since 2000. In large cities such as Warsaw, they are significantly higher than in the rest of the country. With an unemployment rate of 5.7%, Poland is likely to have a very low budget deficit of 0.5% for 2018 as a whole compared with the rest of the EU.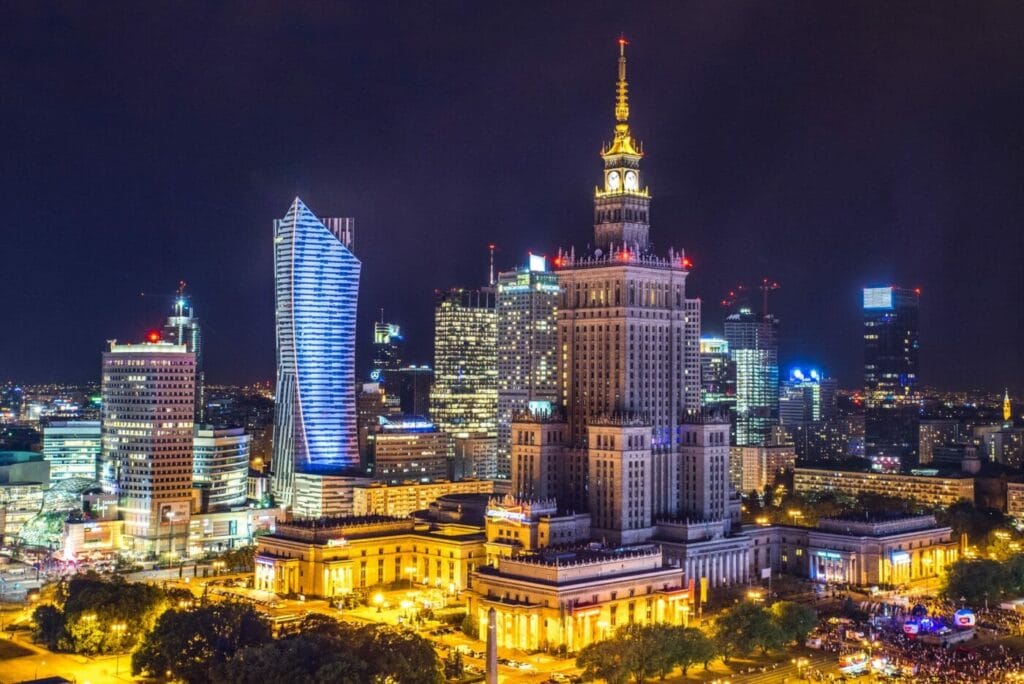 The country's economic success is mainly due to the entrepreneurial spirit of its people and its accession to the EU in 2004. Nowadays, EU funds play a very important role in financing infrastructure projects as well as research and development expenditure by companies.
As Polish banks are cautious in lending to companies and the venture capital sector is underdeveloped, the capital market in Poland plays an important role as a source of finance. The Warsaw Stock Exchange, founded in 1991, currently lists 855 companies. Of these, 467 are listed in the regulated market and 388 in the alternative NewConnect segment, which is intended primarily for very young companies. The stock exchange also has a special segment for corporate bonds, the Catalyst market.
The development of the Polish capital market
In the years 1999-2007 the Warsaw Stock Exchange experienced a real boom. This was mainly due to two factors:
the introduction of private pension funds, which invested most of their funds in shares of listed Polish companies, and
the privatization of many former state-owned corporations.
However, the strong development of the Polish capital market was significantly dampened when the government of Prime Minister Donald Tusk adopted changes to the pension system to finance the budget deficit in 2011 and 2013. In addition, a number of scandals have shaken the Polish stock exchange in the current year, which has resulted in company valuations reaching historically favourable levels.
However, due to a new pension law recently signed by the Polish president, the Polish capital market should receive a boost again from 2019 onwards. The government estimates that PLN 6 billion (approx. EUR 1.4 billion) will flow to the Warsaw Stock Exchange in 2019, PLN 12 billion (EUR 2.8 billion) in 2020 and PLN 15 billion (EUR 3.5 billion) per year from 2021 as a result of the introduction of the so-called Employee Capital Plans (PCP). This should have a positive effect both on company valuations and on the liquidity of the stock exchange, which has declined significantly since 2013.
Current opportunities for value investing in Poland
Due to the currently very favourable valuations, there are many attractive investment opportunities for long-term oriented value investors in Poland, which also often promise high dividends. The following three companies are just a few examples:
1) PBKM S.A.
PBKM is the leading stem cell bank in Europe and the fifth largest in the world. In addition to Poland, the company is primarily active in Spain, Turkey, Switzerland, Portugal, Latvia, Romania and Hungary. In Germany, PBKM holds 11.6% of its competitor Vita 34 directly and via a voting rights agreement. The Polish company generates over 60% of its total turnover with >100 thousand subscriptions, which are billed monthly in euros. In FY 2017, PBKM generated sales of PLN 148.9 million (+15.6% y-o-y), an EBITDA margin of 30.9% (2016: 27.3%) and an operating cash flow of PLN 22.5 million (+77.3%). As in the previous two years, a dividend was paid for the 2017 financial year (PLN 0.90 per share). In the future, growth is expected to come primarily from international acquisitions and the commercialisation of stem cell-based clinical trials and own drugs/therapies. On the basis of analyst estimates, PBKM, in which the American Invesco holds 5.2% and the German Active Ownership Fund 7.6%, is currently valued at a P/E 2018E of 8.7x.
2) PGS Software S.A.
The PGS software is a software outsourcing provider, i.e. it creates mobile applications as well as online and desktop applications on customer request. In addition to Poland, the company has branches in Great Britain and Germany. More than 95% of the turnover, which has grown by an average of 34.2% in the last five years, is generated in Western Europe and North America. Due to very high operating margins (>20%) and low investment requirements, PGS Software may pay a dividend twice a year (the dividend yield for 2015-2017 was approx. 6% each). The future growth of the company, in which the two Management Board members hold a 63.8% share and the NN pension fund a 7.4% share, is expected to come from further expansion in the UK and the DACH region as well as from the acquisition of larger IT projects. PGS Software is currently valued at a historically low P/E 2018E of 12.6x.
3) Synektik S.A.
Synektik is the leading Polish distributor of diagnostic/therapeutic devices and producer of contrast media for cancer diagnostics with an estimated annual turnover in the 2018 calendar year of over EUR 20 million. In Poland, which lags significantly behind the OECD average in terms of cancer diagnostics, the company is the only company to have three registered production facilities for radiopharmaceuticals (so-called cyclotrons) and a portfolio of its own contrast media for PET/CT devices, which are distributed in the Czech Republic, Slovakia and Lithuania as well as Poland. In addition, Synektik, together with an Israeli partner, has developed its own radiopharmaceutical for cardiodiagnostics, which will complete the second phase of clinical trials at the end of 2018 and be licensed or sold to an international partner in 2019. A potential partnering deal could bring more than a hundred million US dollars to Synektik in the coming years, most of which would probably be passed on to shareholders. Synektik, the majority of which is owned by its CEO and a well-known Polish entrepreneur, is currently valued at a P/E 2018E of 14.2x, well below the historical average.
Disclaimer: The article I have written is for informational purposes only. I am not a shareholder of any of the companies mentioned in the text. The valueDACH disclaimer also applies.
Picture sources: Skyline Warschau by Kamil Gliwiński on Unsplash – Photo by Zuza Gałczyńska on Unsplash