On 11 December 2019, the 2nd annual "Project Punch Card" value investing conference took place in partnership with the Gabelli Center for Global Securities Analysis of Fordham University in New York. The event's name derives from Warren Buffett's "punch card" philosophy. This post is a start of a detailed report by Swen Lorenz about the conference.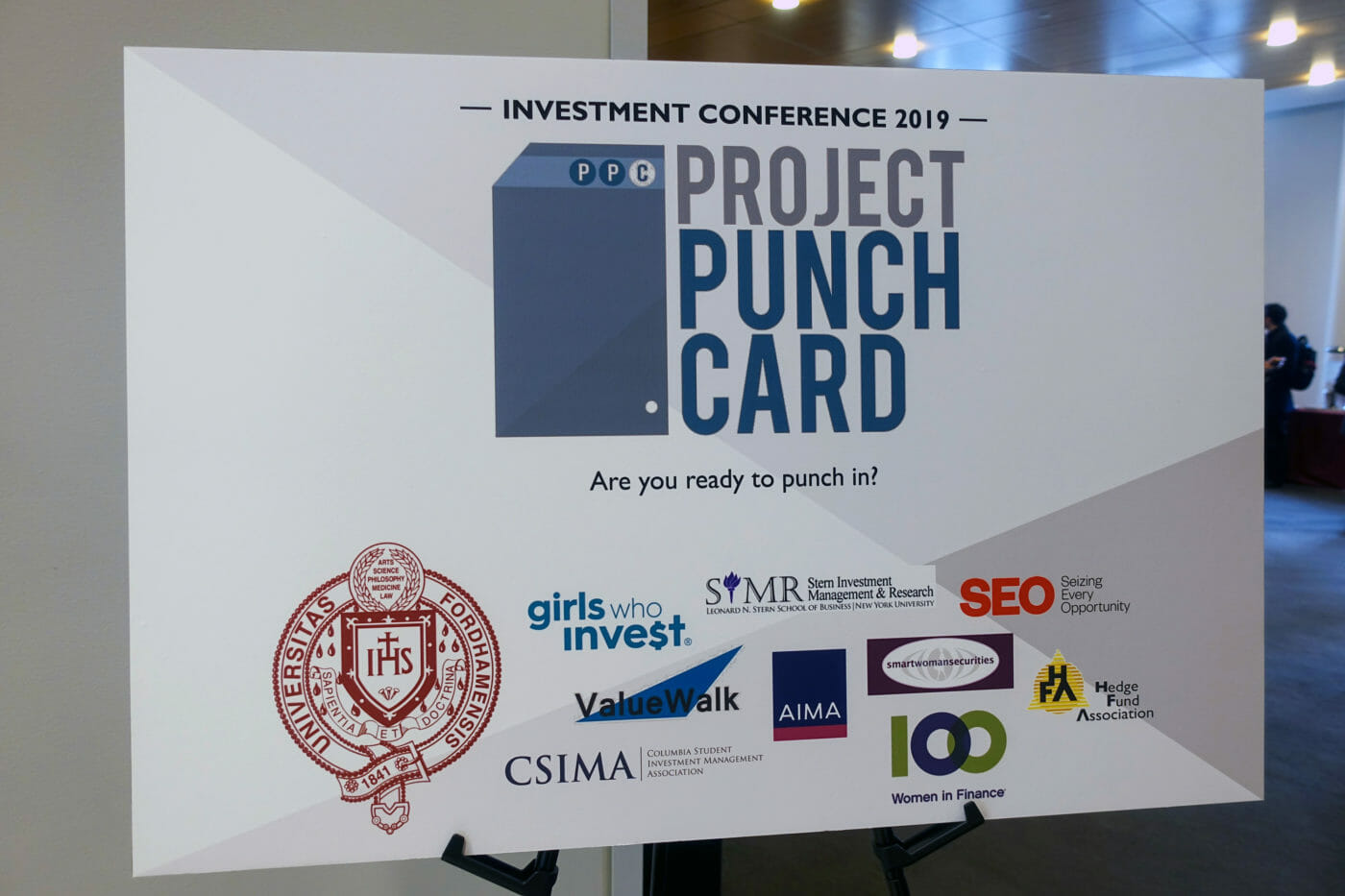 The Gabelli Center, where the conference took place, was funded by the fund manager and well known Value Investor Mario Gabelli. Its mission is to foster a long-term investment approach among students, and support students from groups that are under-represented in the investment field, such as women and students with an ethnic minority background. Its facilities are two blocks from Manhattan's Columbus Circle. The Gabelli Center's state-of-the-art trading floor and the overall facilities will make anyone who did not have the privilege of attending such a well-equipped university green with envy. It's a sight to behold and well worth a visit!
The venue regularly hosts high-profile speakers. Its director, James Russell Kelly, gave attendees of the Project Punch Card conference a preview of events coming up in 2020:
William Buffett, the grandson of Warren Buffett.
Robert J. Shiller, the Nobel Prize winning economist and author of multiple books.
Mervyn King, the former Governor of the Bank of England.
The events are open to the public and dates get published on a dedicated Gabelli Center news website.
Project Punchcard Conference: Organizers and price
Project Punch Card was launched as an initiative to bring together portfolio managers, investment advisors, analysts, allocators – and students! The conference, which is incorporated as a non-profit entity, is a collaborative effort of industry veterans Vishal Mishra of Mishra Capital Partners, Michael Oliver Weinberg of APG, James Basili of Lightsail Capital Management, Henry Patner of HEG Capital, Andrew Kahn of Kahn Brothers Group, Ginny Moore of CAS Investment Partners, and Lindsey Rubinstein and Brian Weber of Robotti & Company.
It's probably one of the best-value opportunities for anyone keen on such conferences. Early bird tickets were just USD 250 (later lifted to USD 995), and with circa 250 attendees and VERY high-calibre speakers it offered a chance to get up and close with some of the best-known names of the industry. Students can attend for a very low price or, in some instances, even for free; their attendance is made possible by those who pay the full price, as well as sponsors (and anyone interested in sponsorship opportunities is asked to contact the organisers).
Speakers included two hedge fund pioneers who became billionaires in their own right, the Co-CEO of the world's largest hedge fund firm and lieutenant of Ray Dalio, plus a trio of globally-known multi-billion dollar distressed assets investors who came together for a panel discussion about where to find opportunities. The conference is still little-known, but for that reason probably all the more valuable if you get to attend!
About Swen Lorenz and his notes of the Value Investing conference
The following notes are taken by Swen Lorenz – we are very thankful Swen shares his notes on valueDACH. Swen's summary comes with the following disclaimers:
You will experience the conference through his filter and bias. His notes are focussed on what I found interesting, not a comprehensive summary of everything that happened throughout the day.
Swen Lorenz is a ferocious note-taker and write down verbatim to the degree he can. However, conferences happen at a fast pace, with varying acoustics, and different speakers choosing different ways for presenting. If any one of the speakers feels misrepresented anything or made an error, please let us know and we'll amend it.
You want to know more about Swen's work? Then we strongly recommend to take a look at his website www.undervalued-shares.com. There he offers more insights from the Punchcard conference and a very interesting members area.
Broadly, the summary and notes, that will be posted in a series of posts during the coming days, fall into the three categories I mentioned in the headline:
Specific investment ideas.
Pieces of general wisdom, e.g., relating to setting up a new fund.
Links to a variety of resources that were mentioned by or relate to the speakers.
Swen scanned the programme of the conference for you, so that you can download the biographies of all speakers.