In mid-November 2019 I had the wonderful opportunity to attend a lecture by Jeremy Grantham in Frankfurt. Jeremy Grantham stands for the G in GMO. He is one of the co-founders of the Boston-based asset manager. GMO manages over 110 billion dollars. Jeremy Grantham became known worldwide for his profound knowledge of the history of the stock market, his market analyses and his macro and value perspective – and of course also because many of his forecasts were correct and yielded good returns.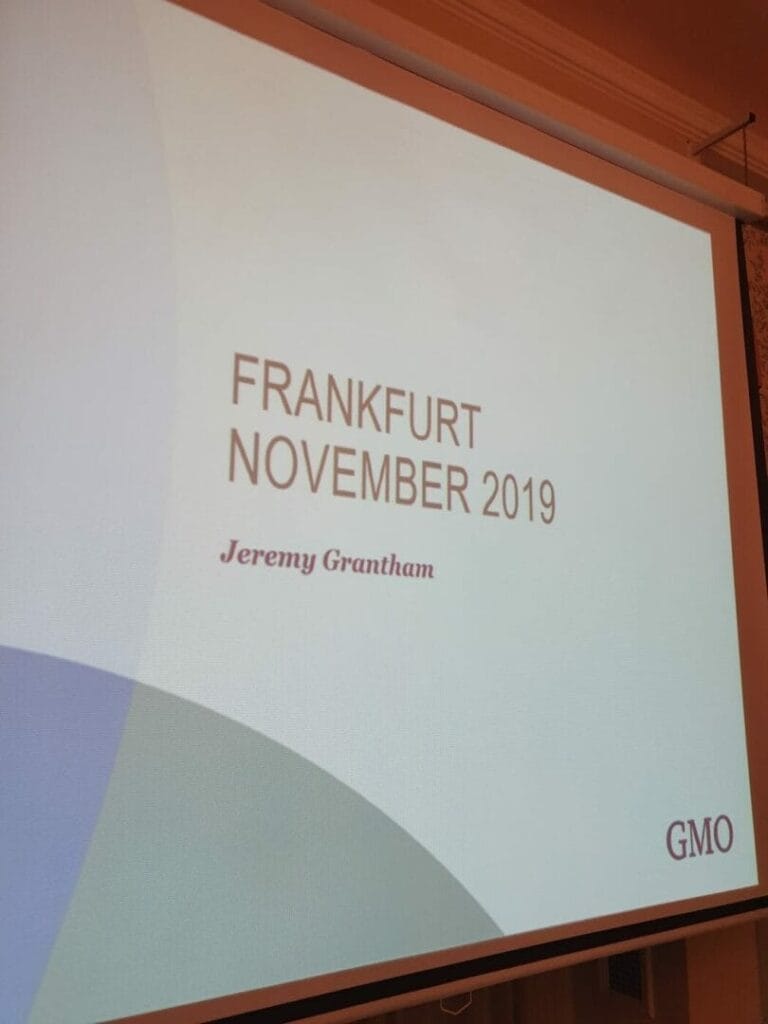 Jeremy Grantham's view of the markets
Jeremy Grantham, like GMO, is bullish for the emerging markets. Valuations of emerging markets are currently very cheap – even though they offer significantly higher population and GDP growth than developed markets. Value stocks from the emerging markets in particular are very cheap. GMO therefore relies heavily on the developing and emerging markets for its global asset allocation, as also shown in this paper. Here you can also find recent updates. GMO, on the other hand, considers the American market to be overvalued. Jeremy Granthams explains his view here:
He renewed that stance again in a recent interview:
How can investors position themselves for climate change, Jeremy Grantham?
Another focus of the Frankfurt presentation was the analysis of climate change. To deal with the very sharp and also very depressing analysis by Jeremy Grantham is absolutely recommendable for every investor who thinks long term.
In his lectures, the co-founder of GMOs listed the numerous dangers that climate change poses for investors. He also brings aspects into play that are normally rarely discussed in the public debate. He explains, for example, how the world's already depleted soils are threatened by increasing heavy rainfall events. Even now, many of the world's soils only offer sufficient fertility for 30 to 70 harvests. Many fertile soils have already been literally "washed away" by intensive cultivation. Due to climate change, the intensity of weather events and rainfall is increasing, so that soil could be eroded much more quickly in the future. Since this could significantly reduce soil productivity, this would pose a further threat to global food supplies, in addition to increasing droughts.
In his presentations, Jeremy Grantham will also provide insights into the positioning he takes as an investor in the shade of the of climate crisis. For example, he is invested in copper in order to profit from the increasing global electrification. Further insights on his strategy and terrific analyses can be found in this playlist, which contains numerous presentations by Jeremy Grantham:
If you like more text than video, I can recommend the "Race of our lives" paper.
Why investors should worry about sperm count and fertility
One aspect that Jeremy Grantham had only touched on in his lectures until now, was further explored in Frankfurt. It is his analysis of the decline in fertility in developed countries (It can also be read in this paper).
He, for example, has studied studies on sperm concentration. The concentration has fallen sharply in recent decades. In 1973 it was 99 sperms per millilitre of sperm in adult men. By 2011, it will be down to 47sperms per millilitre of sperm. That is a decrease of 1.9% per year. If this trend continues, in 2050 the medium sperm count may be as low as 15 sperm per millilitre of sperm. That is then clearly in the infertility area. According to Grantham, one cause of this is very likely to be the products of the chemical industry. Causes could be pesticides ingested food or chemicals in cosmetics. Both can also have an effect on female fertility.
If this development is considered further, it could mean massive headwinds for the chemical industry. If they are one of the main causes of the problem, they could feel massive pressure from the public. As a further consequence, investors may have to revise their assumptions for world population growth downwards. Increasing infertility could mean that there are significantly fewer young people in the world in the future. This in turn has consequences for the growth assumptions of many regions of the world. The developed countries in particular could be affected. There, too, the demand for fertility technologies could increase significantly. Both are trends investors should consider.
What Jeremy Grantham, Volkswagen and Bill Gates have in common: The interest in climate protection and green investments
In Frankfurt, Jeremy Grantham gave another exciting insight into his venture investments. The GMO co-founder has transferred almost all of his $1 billion assets into a foundation. With this he is fighting against the climate crisis. He uses part of his money for venture investments to decarbonize the economy.
One very exciting investment is QuantumScape – a company that Jeremy Grantham says is surfing pretty much under the radar. QuantumScape is working on a solid state battery and is run by a capable founder with a Silicon Valley background. In addition to Jeremy Grantham, VW has also invested there since 2014. VW increased its investment in 2018 and is estimated to have invested $350 million in QuantumScape till 2020. 2020 they invested again with up to $200 million.
VW has probably made this investment as part of its new electromobility strategy, which is explained in this presentation at the ACATIS Value Conference by Dr. Jörg Huslage (sadly only available in German):
Jeremy Grantham gave two presentations, that provided insights into QuantumScape's battery technology. If what Jeremy Grantham reports here and here is true, then QuantumScape seems to have developed a solid state battery that could soon go into mass production with the following characteristics (some batteries may already have been delivered):
Half the weight with the same range of current batteries (in addition, the cooling system can be saved compared to a lithium-ion battery, which saves further weight)
or twice the range with the same weight as a current battery.
Ca. 50% of the costs for the same range.
A range of up to 500 miles (over 800 km) is possible.
The battery can be fully charged in 6 to 12 minutes (instead of the current 3 hours).
The battery is not flammable.
Such a battery would be a massive breakthrough for electric mobility. VW could particularly benefit from it because the battery could be easily integrated into the new VW e-mobility platform. VW, as a former anchor investor, probably has exclusive access rights to this solid state battery. With this technology, they might have better batteries as Tesla.
And what does Bill Gates have to do with this now? A few days after the event with Jeremy Grantham, I saw the documentary "Inside Bill's brain". The third part is about Bill Gates' investments against the climate crisis. It also shows three companies that Bill Gates visits in his search for helpful technologies against the climate crisis. One of them is QuantumScape.
Breakthrough Energy is also invested in QuantumScape. Breakthrough Energy is a $1 billion clean energy fund that is financed by Bill Gates, Jeff Bezos, Jack Ma and Mark Zuckerberg, among others.