Berkshire Hathaway Annual Shareholders Meeting 2023 – A Guide
6. May 2023 @ 08:30

-

16:30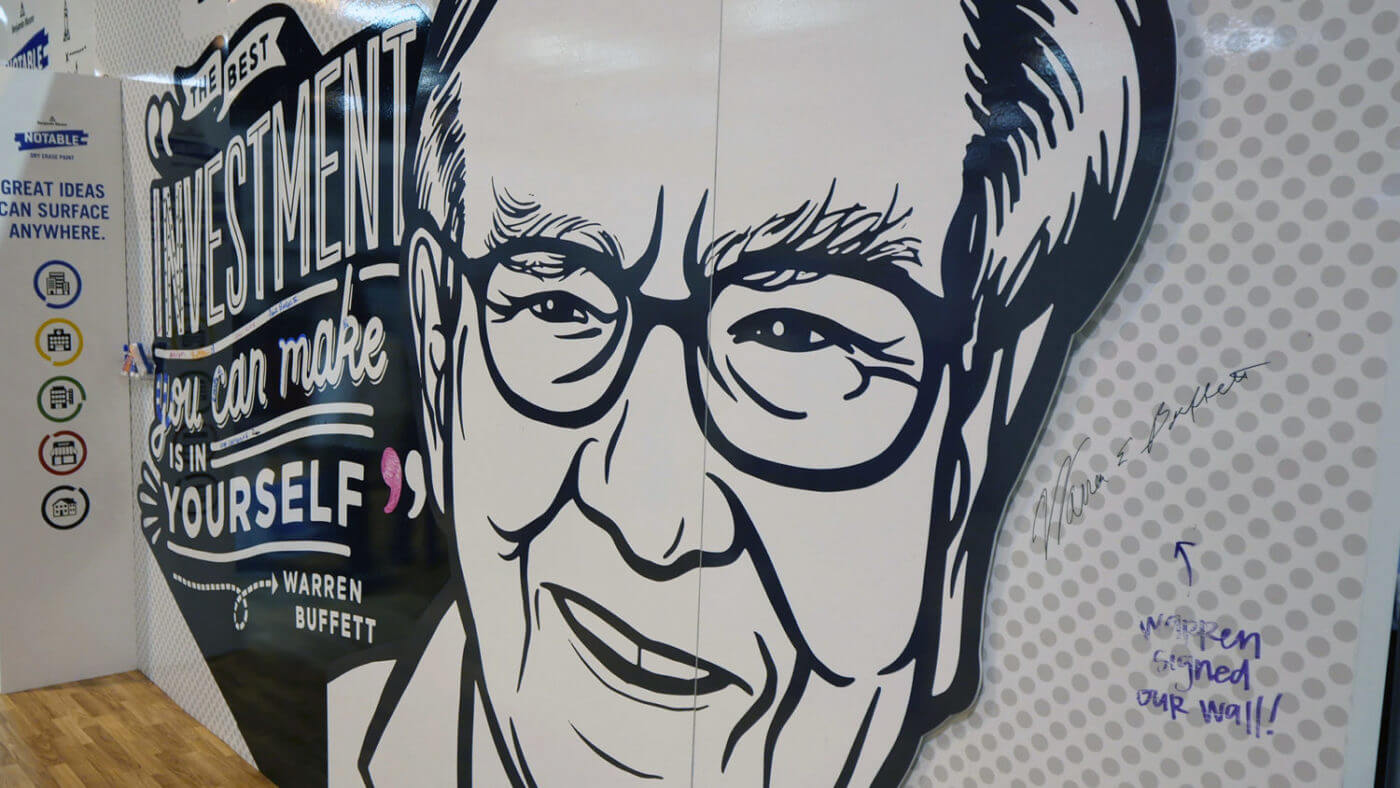 Berkshire Hathaway Annual General Meeting 2023 – Key facts
The Berkshire Hathaway Annual Shareholders Meeting 2023 takes place at the Century Link Center in Omaha on Saturday, 06 May 2023. It has the following schedule:
At 7:00 AM, the doors of the CHI Health Center open.
At 08:30 AM, the excellent Annual Meeting Movie will start.
After that, shareholders can ask their questions to Berkshire Hathaway.
Berkshire Hathaway plans to end the meeting at around 4:00 PM.
If you aren't in Omaha, you can easily follow the Berkshire Hathaway Annual Shareholders Meeting 2023 live worldwide via this Yahoo Finance Livestream.
On the Berkshire Hathaway website, you can find more information on the Berkshire Meeting 2023. The soon-to-be-released Visitor's Guide 2023 gives you an excellent overview that you should download.
There are a few options to get tickets for the Berkshire Hathaway Annual Shareholders Meeting 2023:
Berkshire Hathaway should send out credentials to shareholders in the United States (if they request it via their broker).
For a fee of around 5 $, you should also be able to order the Berkshire Hathaway Annual Shareholders Meeting 2023 badge on eBay via the official account brka_b. Berkshire Hathaway will send the badge to your address via the US postal service. Make sure to order early to get the tickets in time.
As a foreign shareholder, you can pick up your badges on-site. You need to show your ID and proof that you are a shareholder. Details about the so-called "Will Call" can be found in the official visitor guide.
How do I get a good seat in the Century Link Center?
Many legends are being told about the morning of the Berkshire Hathaway Annual General Meeting. Some shareholders are "camping" at the conference hall from 3 AM to get in line for the best seats. In 2019, we recorded our "run" into the conference hall. We arrived around 7 AM and even did get great seats. Watch it here:
PGlmcmFtZSB0aXRsZT0iSG93IHRvIGdldCBhIGdvb2Qgc2VhdCBhdCB0aGUgQmVya3NoaXJlIEhhdGhhd2F5IEFubnVhbCBNZWV0aW5nPyBPdXIgVkxPRyBzaG93cyIgd2lkdGg9IjY0MCIgaGVpZ2h0PSIzNjAiIHNyYz0iaHR0cHM6Ly93d3cueW91dHViZS1ub2Nvb2tpZS5jb20vZW1iZWQvcFNOMnVFMWt5NWM/ZmVhdHVyZT1vZW1iZWQiIGZyYW1lYm9yZGVyPSIwIiBhbGxvdz0iYWNjZWxlcm9tZXRlcjsgYXV0b3BsYXk7IGNsaXBib2FyZC13cml0ZTsgZW5jcnlwdGVkLW1lZGlhOyBneXJvc2NvcGU7IHBpY3R1cmUtaW4tcGljdHVyZSIgYWxsb3dmdWxsc2NyZWVuPjwvaWZyYW1lPg==
How do I ask a question at the Berkshire Hathaway Annual Meeting 2023?
You have two options to ask a question at the AGM:
In advance, you can send your questions to Becky Quick (CNBC) at ">. Becky will pick the – in her eyes – best questions and asks them to Berkshire Hathaway.
If you are in person at the meeting, you can try your luck with the question lottery. If your question gets drawn, you can ask any question you like.
What can I expect from the exhibition at the Berkshire Meeting 2023?
The Berkshire Hathaway Annual Meeting exhibition gives you great insights into Berkshire Hathaway's company universe. You can get to know several companies and their products. In our video from 2019, you can learn more:
PGlmcmFtZSB0aXRsZT0iWW91IG1pc3MgdGhlIEJlcmtzaGlyZSBIYXRoYXdheSBBbm51YWwgTWVldGluZz8gQ2hlY2sgb3V0IHRoaXMgdmlkZW8gZnJvbSB0aGUgZXhoaWJpdGlvbiEiIHdpZHRoPSI2NDAiIGhlaWdodD0iMzYwIiBzcmM9Imh0dHBzOi8vd3d3LnlvdXR1YmUtbm9jb29raWUuY29tL2VtYmVkL0hHV21sRlpQU240P2ZlYXR1cmU9b2VtYmVkIiBmcmFtZWJvcmRlcj0iMCIgYWxsb3c9ImFjY2VsZXJvbWV0ZXI7IGF1dG9wbGF5OyBjbGlwYm9hcmQtd3JpdGU7IGVuY3J5cHRlZC1tZWRpYTsgZ3lyb3Njb3BlOyBwaWN0dXJlLWluLXBpY3R1cmUiIGFsbG93ZnVsbHNjcmVlbj48L2lmcmFtZT4=
Our Berkshire Hathaway Annual General Meeting 2023 Guide
If you want to attend the Berkshire Hathaway Annual Shareholders Meeting 2023 in Omaha in person, please take a look at our guide to support your planning.
How can I join Good Investing's events in Omaha?
Good Investing is usually on-site for 5 to 7 days. We arrive on Tuesday and depart early on Monday/Tuesday. For our community Good Investing Plus, we organize a series of events in Omaha. Here you can apply for Good Investing Plus if you look for an investing community and want to join us in Omaha.
How can I book good overnight accommodation in Omaha?
It is worth planning your journey and your overnight stay well in advance. Omaha is packed at the weekend around the Berkshire Hathaway Annual Meeting 2023, and hotel prices will rise quickly.
There are also numerous high-quality hotels and motels in Omaha, some of which have only recently opened. It could make sense to book directly through the hotel's website as this might be the cheapest.
The neighboring city Council Bluffs (Iowa), is a secret tip if you are looking for an affordable hotel. Here it could help if you are looking for an affordable hotel, too.
On Airbnb, you can find reasonable accommodation at a fair price. Please review the ratings of the place you are planning to book. We would recommend at least a good rating of 4.5 stars. In 2019, we made a very costly mistake and booked a lower-quality place. So, sadly we had to re-book for the week of the Berkshire Hathaway Annual General Meeting.
How do I get to Omaha for the Berkshire Meeting 2023?
Usually, people fly into Omaha's Eppley Field airport. If you can bring some time and don't have to return from Omaha on Sunday, you'll also find affordable flights to and from Omaha. We compensate for the CO² emissions of the flights by a donation, e.g., to Atmosfair.
Alternatively, you can travel by train to Omaha. Amtrak's scenic California Zephyr runs from Chicago or Denver nearly daily to Omaha.
Several Greyhound connections approach Omaha.
How can I get around in Omaha?
Ride-sharing apps, like Uber and Lyft, have excellent offers and driver availability. So, you don't need a (rented) car in Omaha.
Looking for a taxi via the zTrip app or 402/292-2222 can make sense. Uber and Lyft could get crowded in the days of the Berkshire Hathaway Annual Shareholders Meeting 2023. Then a taxi can be a more accessible and cheaper alternative.
Of course, you can also book a rental car for traveling in Omaha. Qeeq could be helpful here.
You can use the ParkOmaha (iOs | Android) app to make parking easy. Near the city center, there is also free parking at the bridge at the Durham Museum.
There are several metro bus lines running in Omaha. This map shows you the operating lines. Tickets can be purchased online.
On Saturday, Berkshire Hathaway also offers direct bus shuttles to the Century Link Center from different hotels. You can find the routes in the official visitor's guide.
Furthermore, Spin and Lime electric scooters are around in Omaha. Lime scooters are bookable via the Uber app.
In some parts of the city, you can rent Heartland Bcycle's and discover Omaha with your bike.
Walking is also not that bad if you stay in Omaha's east. Significantly, the older districts of Omaha offer a decent walking infrastructure.
Which other interesting investing events can I join in Omaha?
From Thursday, various events for investors will take place around the Berkshire Hathaway Annual Shareholders Meeting 2023. Here are some examples:
In our 2022 invite series, you can find more details on some of the mentioned events:
PGlmcmFtZSB0aXRsZT0iTGV0JiMwMzk7cyBtZWV0IGluIE9tYWhhIGF0IHRoZSBNYXJrZWwgT21haGEgQnJ1bmNoIDIwMjIhIEFuIGludml0ZSBieSBUb20gR2F5bmVyIiB3aWR0aD0iNjQwIiBoZWlnaHQ9IjM2MCIgc3JjPSJodHRwczovL3d3dy55b3V0dWJlLW5vY29va2llLmNvbS9lbWJlZC9GX09uY2NYVThaVT9saXN0PVBMMmpHc19QQzhFUVVKNkhmQnpFUDRGempwVUY1MThqc0IiIGZyYW1lYm9yZGVyPSIwIiBhbGxvdz0iYWNjZWxlcm9tZXRlcjsgYXV0b3BsYXk7IGNsaXBib2FyZC13cml0ZTsgZW5jcnlwdGVkLW1lZGlhOyBneXJvc2NvcGU7IHBpY3R1cmUtaW4tcGljdHVyZSIgYWxsb3dmdWxsc2NyZWVuPjwvaWZyYW1lPg==
In addition to the investor events, there are several "family and shopping" events. For instance, on Sunday morning, you can part in the Berkshire Hathaway 5 km race. For shareholders, there are discounts at the jewelry seller Borsheims or the everything-store Nebraska Furniture Mart. You can find details in the official visitor's guide.
If you plan to export your purchases from Berkshire Annual Meeting to your home country, we would usually recommend doing this in your luggage. Sadly, shipping fees from the US are pretty high.
Learn more about the Berkshire Hathaway Annual General Meetings